STEM Stage Skills Scholarship

APPLICATIONS CLOSED.
---
This Scholarship program is proudly supported by Hydro Tasmania.

The STEM Stage Skills Scholarship program is designed to afford five recipients with an extended professional development opportunity at no cost (individual value $5,000). Recipients will receive high level training in stage and presentation skills and personal support to develop a thematic 'stage show' that will be performed at Festival of Bright Ideas in August 2022. It is expected that applicants will be scientists and other STEM professionals with an interest in science communication and communicating their work to public audiences.
Benefits to winners
30 hours of science communication professional development with one of Tasmania's leading Directors, Maeve Mhairi MacGregor.
The opportunity to present on the main stage at Festival of Bright Ideas 2022. Each recipient will complete the program with a fully developed 15-minute stage show.
Intellectual Property (IP) rights over the creative output achieved throughout the program.
Extensive marketing campaign for your work in the lead up to the Festival of Bright Ideas.
Professional images and documentation at the conclusion of the program, which can be used for future funding opportunities.
A ticket to attend the "Science Communication 101" workshop with Dr Karl on Monday 9th May, 2022.
Maeve Mhairi MacGregor bio
Maeve is a Tasmania-based theatre maker, and the former Artistic Director of Loud Mouth Theatre Co. and of the Tasmanian Theatre Company. Maeve holds a Masters of Cultural Leadership and a Bachelor of Performing Arts (Acting) both from NIDA, and in 2016 was a participant in Playwriting Australia's New Work Directors' Studio development program. Maeve has worked extensively as a performer, director, producer, programmer, marketing and communications manager across festivals, theatre, circus, music and the corporate and private events sectors, and has been nominated for numerous Tasmanian Theatre Awards, winning the award for Most Outstanding Performance in 2019 for their portrayal of Kayleen in Gruesome Playground Injuries for the Tasmanian Theatre Company.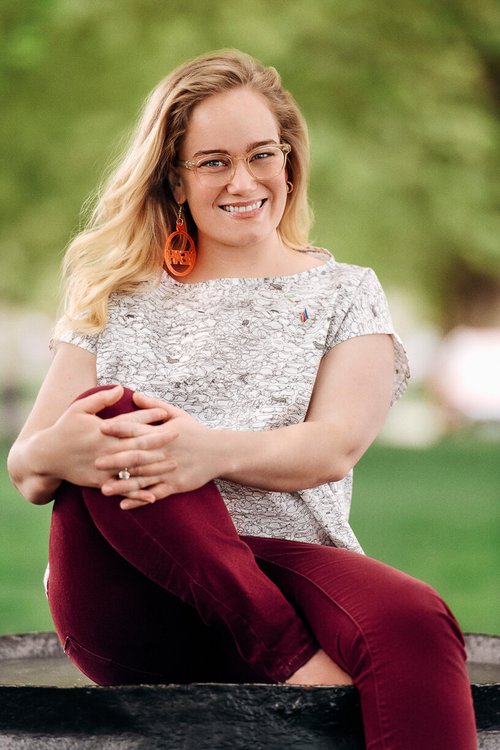 Download Maeve Mhairi MacGregor - CV

Your commitment
The STEM Stage Skills Scholarship recipients must attend the following commitments:
Three full day group workshops with Maeve Mhairi MacGregor, with additional support from professional actors. Workshop I is scheduled for May 14, 9 – 5, 2022. Workshops II and III will take place in June and August (dates TBC).
Six hours of one-on-one professional development with Maeve Mhairi MacGregor.
Performance rehearsals: August 17 and 18, 2022 (times TBC).
Five public performances on the main stage at Festival of Bright Ideas: August 19 and 20 (times TBC).




Terms and conditions of entry:
1. All applications must be received in full via online submission by the closing date in these guidelines. Late applications will not be accepted.
2. Applicants will be competitively assessed on the basis of their application. The coordinators of the Scholarship or members of the judging panel may contact the applicants to seek further information and/or clarification.
3. Applicants must agree to abide by the decision of the judging panel.
4. Applications and supporting material will not be returned to applicants.
5. All material submitted will be used solely for the purpose of applying for this Scholarship and will not be circulated. No material relating to an applicant's entry will be publicised without their prior approval.
6. The coordinating committee reserves the right to revoke a Scholarship, re-award a Scholarship or withdraw any application from consideration for the Scholarship if the applicant is in breach of any of these rules.
7. Recipients of the Scholarship must commit to attendance of the following: Workshop I: Saturday 14 May, 9 – 5. Workshops II and III: 2 x full day workshops to be held at a time negotiated with recipients in the weeks beginning 21 June and 1 August. Six hours of one-on-one professional development throughout June and July. Performance rehearsals: 17 and 18 August 2022. Five performances: 19 and 20 August 2022.
8. Applicants enter the Scholarship at their own risk and the organiser will not be liable for any loss, damage or expense incurred by the applicant as a result of entering an application in the Scholarship.
9. Applicants agree to do all things reasonable to participate and/or cooperate with any promotional or media activities conducted by the organisers and sponsors in relation to the STEM Stage Skills Scholarship 2022.
10. Recipients of the Scholarship agree to participate fully in the program and demonstrate respect to training facilitators and fellow participants.