Activity Providers
The Festival of Bright Ideas is a showcase of the full spectrum of the Tasmanian science sector and aims to offer a program that is accessible and collaborative, engaging all ages and interest levels of science. This is a great opportunity for you to demonstrate the science in your work in a fun and interesting way, and to join us in celebrating National Science Week in Tasmania.
Registration for activity providers for FoBI 2019 is open! Register HERE.

Please direct any enquiries about participating in FoBI 2019 by email to fobi@luminousevents.com.au. 

Stay in the loop
Like, share and follow FoBI on 
Facebook
 and 
Instagram
INFORMATION FOR ACTIVITY PROVIDERS
The 2019 festival will be open exclusively to schools on Friday 9th August and to the public on Saturday 10th August. 
REGISTRATION

Registration for activity providers for FoBI 2019 is open! Please click
HERE
to registerCOST
Participation in the festival if free. The only cost to you will be resourcing your activity. 
PARTICIPATION TYPES
You can participate in the festival program as an Exhibitor or as a Workshop Provider. We also welcome contributions outside these main participation types and encourage you to contact us to discuss your idea
.
It is a requirement that all participants provide a hands­-on activity or experience that demonstrates an aspect of the sciences, engineering, innovation, technology and mathematics. 
SPACE
Exhibitors:
Exhibitor spaces include:
3 metre wide x 2 metre deep space (additional surrounding space may also be utilised) with back and side walls (white)
12 amp power outlet (*Please note that all electrical equipment must be tested and tagged prior to the commencement of the festival. Please bring your own power board if required)

Exhibition space lighting 
Festival sign (example below)
Trestle table
If you have additional requirements outside the standard exhibitor package please let us know and we will do our best to accommodate your requests.
Designing your space 
How you present your space is completely up to you. No theming will be provided other than consistent signage for each exhibitor or activity. Each space will have smooth surface back and side wall to which you can adhere signage and other theming materials with blu­tac, double sided tape or velcro spots.
Workshops: 
There will be a dedicated space available to workshop providers. Both seated and open spaces are available. If you are planning a workshop we will provide you with a space and schedule a time for your workshop within the program.
We ask that workshop providers resource their own activities. If you require additional audiovisual or equipment that you are not able to supply please indicate on the online registration. We will do our best to accommodate your requests.
SCHOOL ACTIVITY PROVIDERS
We are committed to maintaining the quality and standard of activities provided at FoBI and have allocated two places in the festival program to schools wishing to participate as an Activity Provider. Schools may only participate as an exhibitor (i.e. not as a workshop provider) and will be selected based on the activity offered and its fit within the overall program.  School Activity Providers are expected to participate for the full duration of the event.
RISK ASSESSMENT
It is a requirement that all activity providers complete a risk assessment form which will be forwarded after confirmation of your participation.
SIGNAGE
Each participant will be provided with one large festival sign that will describe the science and/or activity offered (example below). You will be asked to provide wording that describes your activity and science you are demonstrating when registering.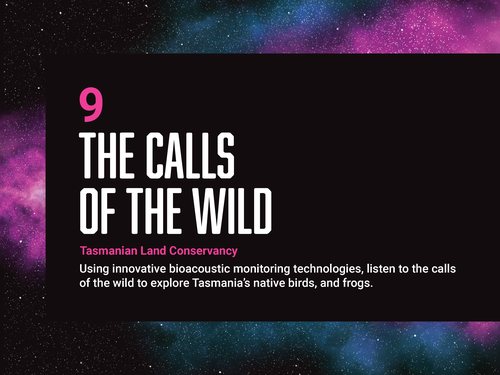 HOW TO DESIGN YOUR ACTIVITY

There are no limitations on the type of activity you can provide ­ it's up to you, your resources and your imagination! The festival program will be developed around the contributions of participants and we are happy to help you formulate or tailor your concept to attract as many visitors as possible to your exhibit. Please contact us if you would like to discuss your ideas 
admin@luminousevents.com.au
.
Need Ideas? This website is a great resource for activity ideas www.howtosmile.org
As a guide activities should:
Be hands­-on
Be simple and efficient
Engage with a broad audience
Schools Day Activities (Fri 9th)
We have made some changes to the structure of Schools Day this year to encourage greater participation from secondary schools and collages. 
There will be three sessions available for schools - two fully scheduled sessions in the same format as last year and aimed toward children years 3-6, and one new non-scheduled session for older students in years 7-12. 
Schools attending sessions for years 3 - 6 will receive a two-hour fully scheduled itinerary which will include a workshop, 3 x 10 minute exhibitor sessions and a stage presentation.
Schools Day sessions for years 7-12 will be aimed more toward careers where students will be able to freely explore the festival. Activity providers will run their hands-on activities 'on-demand' for this session, much in the same format as Saturday, and with a focus on career pathways.
For the scheduled sessions we ask exhibitors to be prepared to present to small groups of school children (between 5-­10 participants) for 10 minute timeframes. Workshops will run for a set duration of approximately 30 minutes and cater for one class group of between 20-30 students.
Each exhibitor will present to between 12-16 scheduled groups throughout the day, and workshop providers will run up to 5 workshops.
Open day Activities (Sat 10th)
There is no time limit for activities. Your activity can run continually, or for a set duration at specific intervals.
BREAKS
Short breaks of 10 minutes will be scheduled for activity providers throughout the primary schools sessions. We ask that you ensure that you have adequate presenting staff to cover yourself for a very big day on Schools Day and for more substantial breaks.
YOUR SCIENCE
During the registration process you will be asked to briefly describe the science in your activity e.g Oceanography, Chemistry, Human Biology, Astrophysics, Environmental Sustainability, Mathematics, Mechanical Engineering – or any combination of scientific disciplines. This information will be forwarded to teachers prior to Schools Day to assist them to prepare their students for their visit.
PROMOTION
The festival website and printed program are the primary spaces where your activity will be promoted.  We strongly encourage you during registration to provide a relevant photograph that demonstrates your science as this will be included with your short activity description on the program page of the website. 
WEATHER
As the entire festival will be contained within PW1 the festival is not weather dependent.