Activity Providers
The Festival of Bright Ideas is a showcase of the full spectrum of the Tasmanian science sector and aims to offer a program that is accessible and collaborative, engaging people of all ages and interest levels in science. This is a great opportunity for you to demonstrate the science in your work in a fun and interesting way, and to join us in celebrating National Science Week in Tasmania. The 2023 festival will be open exclusively to schools on Friday 9.00am-2.30pm and to the public on Saturday 9.00am-4.30pm.
Applications close on Wednesday 28 June. Accepted applicants will be notified on Friday 30 June.
COST
At FOBI'23 there are two ways in which your organisation or group can participate:
Not-for-profit, education or Small to Medium Sized Enterprises - free
STEM Champion (large enterprise with 200+ employees) Activity Provider - $5,000
View our sponsorship proposal for more information!
It is a requirement that all participants provide a hands­-on activity or experience that demonstrates an aspect of the sciences, engineering, innovation, technology and mathematics. 
SPACE
Exhibitor spaces include:
3 metre wide x 2 metre deep space (additional surrounding space may also be utilised)
a vinyl display backing panel, dimensions 2340mm (H) x 950mm (W)
12 amp power outlet*
Festival sign (95cm wide x approximately 120cm high - example below)
Trestle table (1.8m x 74cm deep) - if you require more than one table let us know on the registration form.
Double-sided tape to adhere display materials to the backing boards will be provided. Other tape, such as foam double-sided tape, can not be removed from the panels.
If you have additional requirements outside the standard exhibitor package please let us know on the registration form and we will do our best to accommodate your requests.
*All electrical equipment must be tested and tagged prior to the commencement of the festival. Please bring your own power board if required.
Designing your space 
How you present your space is completely up to you. No theming will be provided other than consistent signage for each exhibitor or activity.
BUMP-IN / BUMP-OUT TIMES
Bump-In: Thursday 17th - 10.00am - 4.00pm.
Bump-out: Saturday 19th - 5.00pm - 7.00pm.
SIGNAGE
Each participant will be provided with one large festival sign that will describe the science and/or activity offered (example below). You will be asked to provide wording that describes your activity and science you are demonstrating when registering. 
When designing your space, please allow space for this sign to be displayed on the backing board panels - it will take up one 2340mm (H) x 950mm (W) display panel.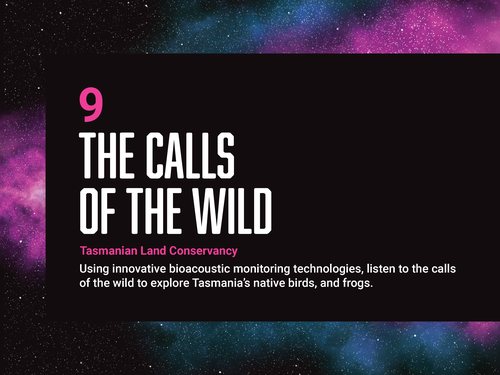 HOW TO DESIGN YOUR ACTIVITY
There are no limitations on the type of activity you can provide ­ it's up to you, your resources and your imagination! The festival program will be developed around the contributions of participants and we are happy to help you formulate or tailor your concept to attract as many visitors as possible to your exhibit.
Need Ideas? This website is a great resource for activity ideas www.howtosmile.org
As a guide activities should:
Be hands­-on
Be simple and efficient
Engage with a broad audience
Open day Activities (Saturday)
There is no time limit for activities. Your activity can run continually, or for a set duration at specific intervals.

BREAKS
Short breaks of 10 minutes will be scheduled for activity providers throughout the primary schools sessions. We ask that you ensure that you have adequate presenting staff to cover yourself for a very big day on Schools Day and for more substantial breaks.

YOUR SCIENCE
During the registration process you will be asked to briefly describe the science in your activity e.g Oceanography, Chemistry, Human Biology, Astrophysics, Environmental Sustainability, Mathematics, Mechanical Engineering – or any combination of scientific disciplines. This information will be forwarded to teachers prior to Schools Day to assist them to prepare their students for their visit.
PROMOTION
The festival website and printed program are the primary spaces where your activity will be promoted.  We strongly encourage you during registration to provide a relevant photograph that demonstrates your science as this will be included with your short activity description on the program page of the website. 
WEATHER
As the entire festival will be contained within PW1 the festival is not weather dependent.
SCHOOL'S DAY
High school open session 9.00am – 10.30am

This session for years 7-12 will be aimed more toward careers where students will be able to freely explore the festival. All activity providers will run their hands-on activities 'on-demand' for this session, much in the same format as Saturday, and with a focus on career pathways.

Primary sessions 10.30am – 12.30pm and 12.30pm – 2.30pm

During these sessions groups of 8-12 children will visit your site for 10 minutes at a time. Be prepared to engage the students in your exhibit for this period of time and repeat your presentation to different groups between 20 times throughout the day. Prior to the festival we will provide you with a schedule detailing the times, school and year groups visiting your activity during this primary session.
Stay in the loop
Like, share and follow FoBI on Facebook and Instagram or sign up to the mailing list to be reminded of key dates and receive FOBI news.